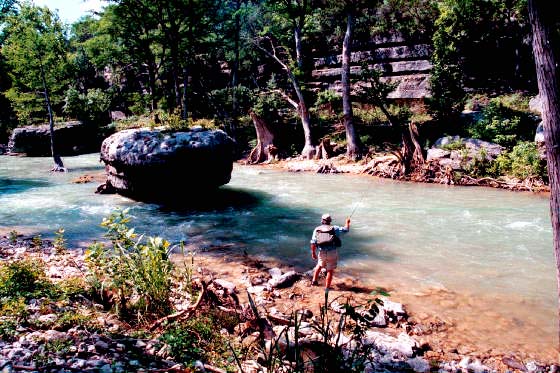 Guadalupe River Fly Fishing Guides
The Lower Guadalupe River is the southernmost trout fishery in North America. It is a tailwater fishery emerging from the bottom of Canyon Lake. Canyon Lake is up to 200 feet deep in some places, and harbors a cold water layer giving the rainbows and brown trout a chance to live through the harsh Texas summers.
Full-sized rainbow and brown trout (13-18 inches) are stocked by Trout Unlimited and the Texas Parks and Wildlife Department.
They are a heat tolerant strain reared in Missouri.
The Guadalupe River Chapter (GRTU) of Trout Unlimited is the largest in the world. Expedition Outfitters supports the efforts of GRTU with donations of equipment, guided trips, and volunteer activities.
Please help support the efforts of GRTU by joining and volunteering.
Go to:
www.grtu.org
Available Packages
Choose a fly fishing float trip aboard a 14 foot custom whitewater raft. It has seats with backrests, and hard casting platforms for the anglers fore and aft. The guide sits in the center and rows the raft. A day trip covers approximately 3.5 to 6 miles of the most productive water in the trophy trout regulation section. A day trip is 7-9hours.
All Trips, Catch and Release Only.
You will float past 500 foot limestone cliffs, and enjoy shaded pecan and cypress canopies. Enjoy the opportunity to see native wildlife including
whitetail deer, rio grande turkey, osprey, red tail hawks and others.
All equipment, lunch, drinks and instruction included.
$500.00 per day, up to 2 people. Half day trip $350.00, Groups up to 10 by special arrangement.
Call: 210-602-9284, or e-mail: kevinstu@msn.com to reserve your special dates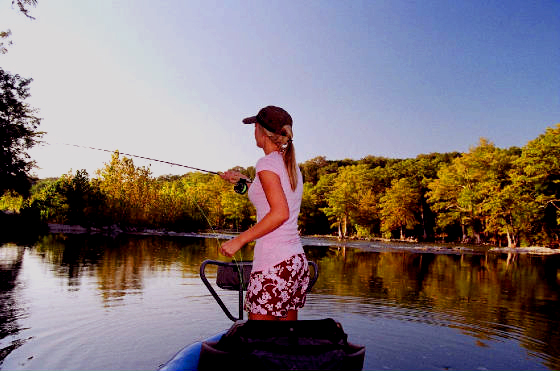 Guadalupe River Fly Fishing Guides
Contact us:
email: kevinstu@msn.com
phone: 210-602-9284
Expedition Outfitters 9751 B River Rd., New Braunfels, TX 78132